My favorite film of the 1960's....
1. 2001: A Space Odyssey - Dir. Stanley Kubrick (1967)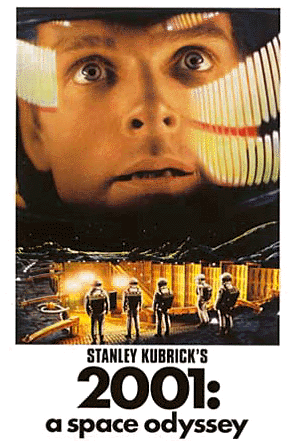 Breathtaking and magnificent. Watched it again two weeks ago. Any lover of film must see this one. the film asks tough questions and gives no easy answers, if answers at all...
2. The Hustler - Dir. Robert Rossen (1961)
Paul Newman gives his best performance in a film that's slow, yet thrilling, funny, yet depressing. I love love love this movie.
3. Lawrence of Arabia - Dir. David Lean (1962)
David Lean made fantastic adventure films. This film is arguably his best. So long, yet so worth it.
4. Psycho - Dir. Alfred Hitchcock (1960)
I was an idiot and watched the horrible Gus Van Sant version over ten years ago when it came out before I'd ever seen this version. No matter, this one still had a strong impact on me. Truly eerie, truly frightening, truly brilliant. John, you are right, there is all sorts of T and A on this poster.
5. Cool Hand Luke - Dir. Stuart Rosenberg (1967)
Paul Newman is a master. He owns this movie. all those damn eggs!
6. Dr. Strangelove: Or, How I learned to Stop Worrying and Love the Bomb - Dir. Stanley Kubrick (1964)
Brilliant and Groundbreaking. Describes pretty much every Kubrick film. Peter Sellers got all the recognition, but George C. Scott gives the truly brilliant performance.
7. Butch Cassidy and the Sundance Kid - Dir. George Roy Hill (1969)
Even with the silly, misguided, "raindrops keep falling on my head" sequence, this is a thrilling and fun adventure film.
8. The Graduate - Dir. Mike Nichols (1967)
I had dirty dreams about Anne Bancroft for months after seeing this film. Dustin Hoffman is spot on perfect. Really interesting film, even more interesting after i'd been a graduate for a few years.
9. The Good, the Bad, and the Ugly - Dir. Sergio Leone (1966)
One hell of a thrilling film. My favorite action oriented Eastwood western.
10. Hud - Dir. Martin Ritt (1963)
Did I really just put 4 Paul Newman films in the top 10? You're damn right I did! He's fantastic yet again as the disappointing son in this subtle, yet moving experience.
11. Midnight Cowboy - Dir. John Schlesinger (1969)
Dustin Hoffman gives his best performance in this sadly moving film.
12. Persona - Dir. Ingmar Bergman (1967)
Weird. Very weird, but powerful. Slow, but worth it. Bergman is a genius.
13. 8 1/2 - Dir. Federico Fellini (1963)
Fantastic. Fellini is Fantastic. Later remade as the musical "Nine."
14. The Sound of Music - Dir. Robert Wise (1965)
I would do naughty things to Julie Andrews
15. Spartacus - Dir. Stanley Kubrick (1960)
Kubrick also does sword and sandal epics flawlessly.
16. The Producers - Dir. Mel Brooks (1968)
Hilarious, but later bastardized and converted to a musical.
17. Easy Rider - Dir. Dennis Hopper (1969)
Trippy experience.
18. The Great Escape - Dir. John Sturges (1963)
Fun and thrilling. The motorcycle chase is awesome.
19. Bonnie and Clyde - Dir. Arthur Penn (1967)
Interesting things to say about celebrity and violence.
20. In the Heat of the Night - Dir. Norman Jewison (1967)
Great performances by Steiger and Poiter
Hope you enjoyed. Tell me what you think...